One Child Is Holding Something That's Been Banned in America to Protect Them: Powerful Gun Control PSAs from Moms Demand Action
I just wanted to share some new public service ads from the organization Moms Demand Action for Gun Sense in America (an organization formed here in the Indianapolis metro area). For additional information on these ads (including explanations of the things depicted and why and where they have been banned), please see the article Gun Control PSAs By Moms Demand Action Are Striking And Powerful at Huffington Post.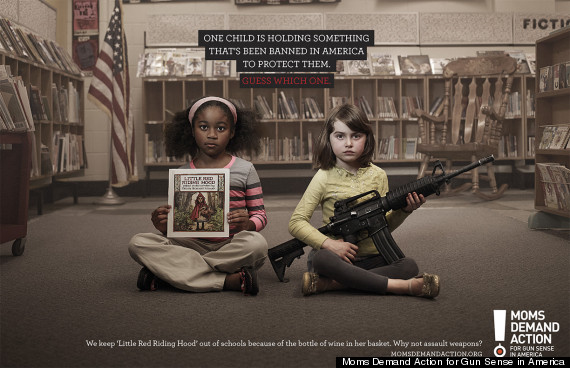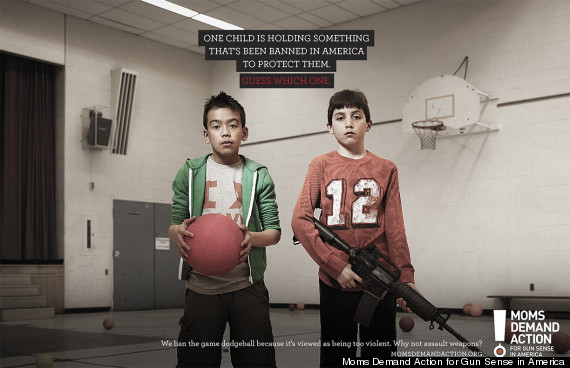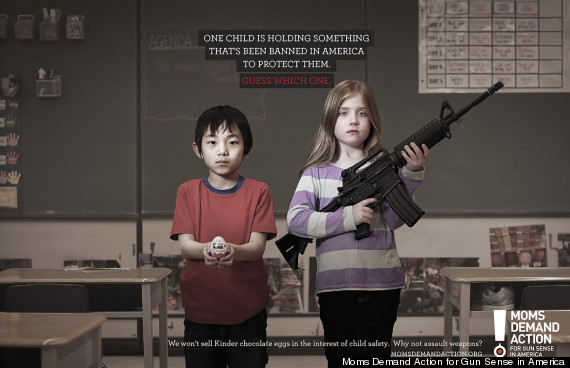 Lest you think that these ads are a little over the top, here is a photo taken at a recent rally in New Hampshire to (apparently) protest the repeal of the state's "stand your ground law".
Though it may not be clear, the gun that the boy is holding is apparently an AR-15 — the same sort of gun used in the Sandy Hook massacre. Oh, and the boy? He's 11 years old. Think about this: He's apparently old enough to carry an assault rifle, but he isn't old enough to go to a PG-13 movie on his own or to even play Teen rated video games.
But guns! And freedom!
If you're a parent of young-ish children, you've no doubt encountered all types of safety features on toys and household goods to keep your children safe. Whether it's warnings about small parts or screws on battery compartments, child-proof pill bottles or latches on cabinet doors, car seats or bike helmets, as a society we've placed a premium upon the safety of our children and recognized that because they are children accidents will happen. Yet day after day we read about children getting access to a parent or sibling's gun and … boom. If I'm not mistaken, I read that last week three toddlers accidentally shot family members. Toddlers. Who somehow managed to get their tiny hands on guns.
Let's regulate what our kids are allowed to read (we wouldn't want them to learn about sex or drugs, now would we?).* Let's regulate the games that they play so that they don't get hurt. Let's even regulate their toys so that they don't hurt themselves. But regulating guns? Tyranny!
Update (May 13, 2013): I've noticed that this post has received quite a few hits from outside the United States. If you're reading this post from outside the United States, please leave a comment telling me how you came upon this post, where you're from, and what you think of the issues that I've been discussing. How does the rest of the world view the gun culture of the United States?
Me he dado cuenta de que este mensaje ha recibido un buen número de éxitos de fuera de los Estados Unidos. Si usted está leyendo este mensaje fuera de los Estados Unidos, por favor deje un comentario diciéndome cómo llegaste a este post, de dónde eres, y lo que piensa de los temas que hemos estado discutiendo. ¿Cómo funciona el resto del mundo ver la cultura de las armas de los Estados Unidos?
J'ai remarqué que ce poste a reçu pas mal de coups venant de l'extérieur des États-Unis. Si vous lisez ce post en dehors des Etats-Unis, laisser un commentaire en me disant comment vous êtes arrivé à ce poste, où vous êtes et ce que vous pensez des questions que j'ai discuté s'il vous plaît. Comment le reste du monde voir la culture des armes à feu des États-Unis?
Ich habe bemerkt, dass dieser Beitrag hat durchaus ein paar Hits von außerhalb der Vereinigten Staaten erhalten. Wenn Sie dies lesen post sind von außerhalb der Vereinigten Staaten, hinterlassen Sie bitte einen Kommentar erzählte mir, wie du auf diesen Beitrag kam, wo Sie sind, und was Sie von den Fragen, die ich besprochen haben. Wie der Rest der Welt sehen die Pistole Kultur der Vereinigten Staaten?
שם לב שהפוסט הזה קיבלה לא מעט להיטים ממחוץ לארצות הברית. אם אתה קורא את הפוסט הזה מחוץ לארצות הברית, בבקשה להשאיר תגובה אומר לי איך אתה נתקל בפוסט הזה, מאיפה אתה, ומה אתה חושב על הנושאים שאני כבר דן. איך שאר העולם רואה את תרבות האקדח של ארצות הברית?
---
*Query the likelihood that the parents most likely to ask a school to ban a book are also the parents most likely to be opposed to gun control or other "infringements" on parental rights (like the requirement to use a car seat or keep cigarette smoke away from children). My guess is that the correlation would be really, really high (especially if the book to be banned was attacked because of depictions of sex, alcohol or drugs, foul language, or on religious grounds; oh, wait … I think I've just described a large portion of attempting book banning incidents). So, yeah, infringe upon what my kid can be taught and read in school, but how dare I try to keep my kid safe by limiting your kid's access to a gun because, after all, clearly your Second Amendment right outweighs my right to keep my child safe, right?
Labels: Gun Control, Laws, Politics